Bud Carroll
Biography
Bud Carroll was born in Victoria, BC, but he lived most of his life in other parts of Canada: Eastern and Northern Ontario, Nova Scotia, Quebec and Manitoba. He has been interested in science and metaphysics since childhood. His openness to the existence of spirit worlds has heightened his awareness of the psychic events that have occurred throughout his life. After working in computer sciences for thirty years he retired to investigate science and spirituality to see what physical evidence could be found to substantiate the existence of higher spiritual planes. He attributes his journey of discovery to the wise direction of his spirit guides and continues to study science, clairvoyance and physical mediumship. Bud Carroll now lives in Sidney, BC and may be contacted at walkingthethirdpath@gmail.com.
Where to buy in print
Books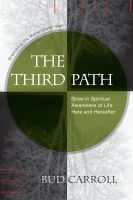 The Third Path: Breaching the Materialistic Wall, Grow in Spiritual Awareness of Life Here and Hereafter
by

Bud Carroll
Without resorting to miracles or magic, this book provides compelling evidence of life beyond the physical world by logically investigating the limitations of matter in the universe, by examining the gaps in scientific knowledge and by analyzing what the mystics already know about a spiritual existence. This book will change your life if you let it.
Bud Carroll's tag cloud