Michael Burke
Biography
Michael Burke has only recently arrived on the mystery scene, and he arrives with a rich and varied history. Following his graduation from Harvard (1960), and a tour in the army, his first career was in astronomy. He spent four years with the Smithsonian Astrophysical Observatory, gathering data on orbiting satellites in observatories from Hawaii to Iran. Michael Burke then earned a Master's Degree in Urban Planning from Columbia University (1969). He worked in the planning department of New York City and taught in the Graduate School of City Planning at Columbia. In a rebellious mood in 1974, he left the planning field, declared himself an artist and moved into an illegal loft in Tribeca (NYC). Thirty years of a career in painting and sculpture has featured exhibitions and installations in the US and Europe. (His work can be seen at www.michaelburke-art.net).
Books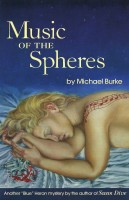 Music of the Spheres
by

Michael Burke
Johnny Heron is down once again, but that doesn't stop him from attacking a seemingly impossible case, not believing the rumors and not backing down from the threats. One more time, he fumbles and fights his way to the truth behind blackmail, infidelities, and murder... and a really good martini.
Michael Burke's tag cloud