Abu Bakar Fahmi Muhammad
Biography
Abu Bakar Fahmi Muhammad is an engineer in Kuala Lumpur, Malaysia. He's originally from the East Coast and also raised there. Currently he lives in the capital of Malaysia since his university days. Besides reading and writing, he has a lot of interests but masters or became successful in none of them. These interests include car, anime, manga, comics, video games, technology, computers, movies and music.
Where to find Abu Bakar Fahmi Muhammad online
Books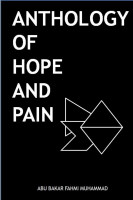 Anthology of Hope and Pain
by

Abu Bakar Fahmi Muhammad
Collection of short stories and writings which includes bizzare and strange tales, amusing trains of thought and others that may be a dark reflection of everyday life.
Abu Bakar Fahmi Muhammad's tag cloud