Betty Burston
Biography
There is life after retirement… Betty Burston, Ph.D. left the world of academia to become one of the country's first transmedia novelists. She specializes in the writing of books that will be produced into films, television series, and/or internet shows. Her first transmedia novel was 24-7 which became the made-for-video film Streetwise. More recent releases include the novel/film Deposition; the stageplay, film, and internet series Get Thee Behind Me I and II; the nonfiction book and talk show, What Do We Tell Our Daughters; and the novel and film The Road to Damascus. Joshua's Harvest was specifically written for a television series. Joshua's Harvest is scheduled for release on Punch Television Network.
Books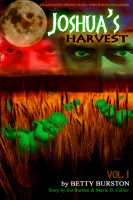 Joshua's Harvest Volume 1
by

Betty Burston
Troy, a small town in Central Alabama, contains the largest per capita population of paranormals in the world. Driven by the desire to breed a new life form, Joshua, a 14th century vampire, descends upon the rural community in June 1959 and initiates a cycle that may ultimately end in a destruction of all mankind. Joshua's Harvest: The TV series is coming to Punch TV network in 2013.
Betty Burston's tag cloud