Bruce Zamelsky
Biography
I started as a volunteer firefighter in New Jersey. I moved to Florida and became certified as a Paramedic and eventually as an E.M.T. Instructor. I moved to Georgia and went to work as a Paramedic while joining a volunteer fire department. I started developing and teaching classes in fire, e.m.s. and rescue for the state of Georgia. I became an instructor for the National Fire Academy and started teaching part time in several states. I then moved to New York where I worked as the O.S.H.A. Coordinator for the Fire Department of New York.

I earned a Bachelor's Degree in Public Safety Management and then a Master's Degree in Safety Engineering. I retired and moved back to Georgia.
Books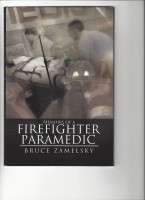 Memoirs of a Firefighter/Paramedic
by

Bruce Zamelsky
This book has over 20 years of fire and EMS calls that I responded to. These are true real-life events told as they happened without any sensationalism. The reader will develop an understanding of what it's like to be an emergency responder and see the emotions we go through. If you enjoy reading about actual emergencies, or considering going into this field, this book is a must read.
Bruce Zamelsky's tag cloud