louise cabral
Biography
Louise Cabral has been a writer all her life. She is the author of poetry, short stories and six novels. Her book Islands of Recall is a guide for those who wish to write their life story, both past and present. Holding degrees in English, Speech and Drama, Ms. Cabral was a High School teacher for twenty-five years until she took an early retirement to concentrate on her writing. She is an accomplished pianist and uses her acting experience to perform a one-woman show she calls "Millay and Me", combining the poems of Edna St. Vincent Millay with poems of her own. She has recently dedicated her magnificent home, known as The Cabral Center for the Arts, to the cultural enrichment of her community. She lives in Southern California and continues to lead an active lifestyle into her vintage years.
Where to find louise cabral online
Books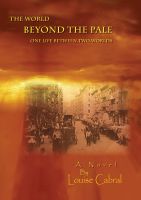 The World Beyond The Pale
by

louise cabral
Esther Rabach's story begins in a Jewish shtetl (a small village) within the Pale of Settlement, an isolated area designated by Catherine the Great during her anti-Semitic rule of Russia. Esther, young and naïve with a head full of romantic dreams, embarks on a journey to America to marry the man she loves. Arriving in New York City in 1910, she discovers the world beyond the Pale.
louise cabral's tag cloud