Sista Cassie
Biography
Sista Cassie has an enduring passion for working to improve the quality of life of neglected children and high-risk families. She worked for several years in the Social Service field and as an event coordinator and fund raiser for non-profit organizations serving needy populations. She has a Masters degree in Psychology which she applied in practice, counseling seriously emotionally disturbed children and their families. She has experience working across a broad cultural spectrum including Hispanic and West Indian clients. Following an unforeseen health crisis Cassie discovered that she was part of an ever growing number of Black women suffering from obesity illnesses. When she sought support she found there were few culturally relevant options. Cassie states, "I looked at my medical records for only three years it was over two-hundred pages long. And there were a lot of Black women sick like me but very few health related resources that spoke to me. I had to do something". She completed a juice fast and made a lifestyle shift from addictive processed foods to primarily organic produce and whole grains and lost 100 pounds. So she decided to share her experiences online, with the hopes that others find some commonality and see that there are women of color completing successful juice fasts and eating clean organic food. The response was immediate and intense, women began filling her message box with requests for help with losing weight and beating food addictions. This positive response inspired her to try and make an even larger impact. Cassie completed her first ebook "Black Girls Guide to Juice Fasting" with another focused on eating organically in the works. Cassie is presently building her brand, Black Girls Eat Green, as a global platform to turn the tide of the obesity and obesity related illness epidemic disproportionately affecting women of color.
Where to find Sista Cassie online
Videos
How I Lost 100 Pounds
After a lifetime living with addictions to processed food and obesity I am finally making a permanent life change. Thus far I have lost 100 pounds Juice Fasting and eating a primarily plant based diet. I'd love to share my journey with you.
Books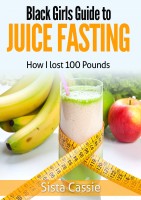 Black Girls Guide to Juice Fasting: How I Lost 100 Pounds
by

Sista Cassie
I want to turn Black girls Green! After years of obesity I was able to cure my food addiction and drop an amazing 100 pounds. I did it by Juice Fasting and now maintain a plant based diet of whole organic foods. In my Ebook, "Black Girls Guide to Juice Fasting" I show you exactly how I lost weight and how you can do it too!
Sista Cassie's tag cloud