Nicholas P. Cafardi
Biography
Nicholas P. Cafardi is a well-known Catholic author whose works have appeared in America magazine, U.S. Catholic, Commonweal and the National Catholic Reporter. His book, Before Dallas, has been called the definitive history of the child sex abuse crisis in the Catholic Church. Priests Without People is his first work of fiction.
Books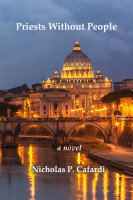 Priests Without People, a novel
by

Nicholas P. Cafardi
Priests Without People is a novel about cardinals, bishops, pastors, seminarians, lay people, and even popes trying to find their way to salvation in the turmoil resulting from the Second Vatican Council in the Catholic Church. It's the 1960's, and it's a brave new ecclesiastical world of confusion and chaos in which the only clear voice is that of the Lord. But is anyone listening?
Nicholas P. Cafardi's tag cloud