Cahira O'Donnell
Biography
Having been brought up overseas and living with local families in many cultures, Cahira O'Donnell has a rich history to draw upon. Throughout her life and her travels she has been a dedicated student of shamanism and an explorer of the esoteric realms. Being psychic herself, Cahira's real-life experiences with the supernatural infuses her paranormal romance writing with profound accuracy.
Armed with her history, combined with a degree in Psychology and a deep understanding of human nature, Cahira creates stories that are engaging, dynamic, realistic and boldly erotic.
Cahira now lives in the beautiful mountains of Colorado where she enjoys a quiet home, beautiful scenery and immersing herself in the art of storytelling.
Books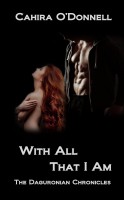 With All That I Am: The Daguronian Chronicles
by

Cahira O'Donnell
Earth Ambassador, Aine Callahan finds herself claimed as destined mate to an oversized, mating maddened Vamp who swears he will never release her. Lord Lance Asturan, ruling king of the Masian Sector as an Alpha Vamp is unable to relinquish his mate. When plotting factions kidnap Aine Lance will stop at nothing, raining war across the galaxy to retrieve his beloved mate and win her heart.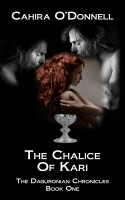 The Chalice Of Kari: The Daguronian Chronicles Book One
by

Cahira O'Donnell
Exploited by the government for her psychic gifts, Kahara Mitchell has been trained as a deadly assassin. Unwilling to be used to kill innocents, she goes AWOL. Her journey ends on an intergalactic fleet with her destined mates Lords Rom and Rah Andor, mirror twins from another galaxy who must win Kahara's love and willingness to bond, or die trying.
Cahira O'Donnell's tag cloud