Calvin Daniel
Biography
Autobiography

Calvin Daniel's life may be similar to the lives of many of his compatriots with one exception: His negative experiences have driven him to improve himself and to think that equality and love among men are the solution to man's existential conflict.
Son of a coal miner and housewife, he was born in Johns, Alabama. Experiencing his parents struggle to support seven children, he promised himself that he would find a way to have a proper education.
In an environment in which he could not even dream of a university education; only a young man like him, with his determination could do it.
His mother's influence, a woman of great sensibility, hard tempered, but with much tenderness, was his most ardent supporter, and provided the most constant assistance to overcome all the obstacles that stood in his way.
From his father, he obtained the belief that all men are created equal. He inculcates great goodness and love to others.
Calvin was born a poet. At age 12, while looking at wild robins from the region he wrote his first poem, which he still remembers to this day.
His love for music, for which he feels true passion, was inherited from his mother who used to take him, every Sunday, to sing at the Bethlehem Baptist church choir in his hometown.
In Alabama, he finished high school, when schools were racially segregated and realized that he wasn't going to be able to attend the university he desired.
He entered the Army and accomplished what none of his brothers or sister had done previously. Being twice in the Republic of Viet Nam. This terrible experience confirmed what he always believed in: That war is useless and that the only valid reason for our existence is to work for peace, fraternity, without any prejudice of color, position or nationality.
20 years later, being a master sergeant in the Army, he later retired from service and went to pursue a Master's Degree in Public Administration from Golden Gate University (seven years of night school).
He has retired from civil service after twenty-three years, serving in the office of Army G-3 as Project Manager for the Training Ammunition Management Information System -Redesigned (TAMIS-R).
Calvin is also a showman. In 1964 he sang for the first time in night clubs in Germany. While in the Army he performed in Hawaii, and many different states where he was stationed. For years he has performed annual shows at Fort Myer, Virginia, where he sings with his old friend and fellow vocalists, Felton Cameron and Gene Collier.
HE is married to Valerie M. Beliveau and lives in Woodbridge, Virginia. HE has six children and nine grandchildren living in Texas, Florida and Georgia.
Books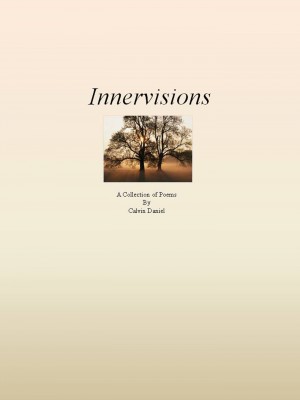 Innervisions
by

Calvin Daniel
Price:
$3.00 USD.
Words: 12,730.
Language: English.
Published: January 25, 2010
. Categories:
Poetry
»
American poetry
A collection of poems of my inner thoughts and feelings about world affairs, friends and loved ones.
Calvin Daniel's tag cloud