Andy Calloway
Biography
Andy Calloway is a member of the Society of Children's Book Writers and Illustrators. He lives in Maryland with his wife and two children, writing children's literature when he is not working on exciting space missions that travel around the Solar System. Andy has operated or managed spacecraft missions ranging from commercial geostationary satellites, to a NASA low Earth orbiting mission named TRMM, to deep space exploration missions such as the NASA MESSENGER mission to the planet Mercury. His literary work ranges from preschool poems and picture book stories through early reader and middle grade fiction.
Where to find Andy Calloway online
Books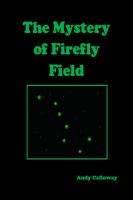 The Mystery of Firefly Field
Tyler never imagined he would become an Eco-detective when his family moves to the dark skies of the country. Riding his bike home, he slams on his brakes. Countless fireflies are clustering into groups. Tyler is staring at a huge, green-glowing Big Dipper! To save these fireflies, Tyler must learn about the night sky and solve the Mystery of Firefly Field before light pollution signals their end.
Andy Calloway's tag cloud