Andrew Campbell
Biography
Andrew Campbell was born in Newtownards, Northern Ireland in 2078. After graduating from the Irish Space Engineering College in 2098, he invented and built the World's first fully-functioning Time Machine. During early testing of the prototype, he mistakenly travelled back to 2012 where it smashed into a tree on arrival. Now stuck in 2012, Andrew has been desperately searching for a way to fund purchase of the spare parts he needs to return home. Andrew delivers pizzas, helps elderly ladies, washes cars and sells books online. So far, he's collected £4.56 of the £37million he needs to return home.
Where to find Andrew Campbell online
Books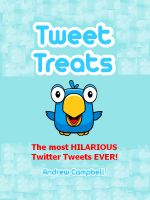 Tweet Treats: The Most Hilarious Twitter Tweets Ever!
by

Andrew Campbell
You really are 'in for a Tweet!' Titter at Twitter with these witty, twitty, Tweets for every occassion. With only 140 characters available, its not just hard to know what to write, its also hard to fit it all in! Allow me to help with this hilarious book of random Tweets. You'll be sure to give your followers a giggle!
Andrew Campbell's tag cloud