Nelson Gist
Biography
The author Nelson Gist was an activist organizer in the factories and community of the Oakland Bay Area during the 1970s and 1980s. He has been an outspoken critic of Capitalism and private property, as well as a student of Marxism for over 40 years. After completing a 4 year enlistment in the U.S. Navy, Nelson attended college on the G.I. bill during the turmoil of the Vietnam War and the Civil Rights Movement. He graduated from San Diego State College in 1969. His academic studies emphasized business administration and political science. With the resulting economic collapse of Capitalism in 2008, Nelson again found himself participating in direct action with the "Occupy" movement in Southern California. Nelson is currently retired and living in the high desert of Southern California.
Books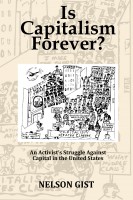 Is Capitalism Forever?
by

Nelson Gist
Nelson Gist writes a detailed and thoughtful expose of political economy and Capitalism in the United States. "Is Capitalism Forever?" takes the reader on an activist's journey from the Vietnam War through the current election.
Nelson Gist's tag cloud