Alexis Kaman
Biography
Alexis Kaman is the pen name for a 48 year old American author of two trade published futurist science fiction novels under her real name. She is branching out into erotica under this pseudonym as a side interest. If there is any interest in her erotica work then she will consider writing for this genre in the future.

Alexis enjoys bicycle riding, reading whatever she can get her hands on, playing around with stir fry variations in the kitchen, guitar, and oddly enough, video games like Borderlands and Halo.
Books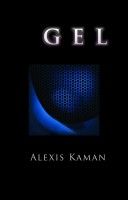 Gel (Science Fiction Erotica)
by

Alexis Kaman
(5.00)
Jericha is worried. Was it a dream or did it actually happen to her? She isn't sure. Her boyfriend is not only cheating on her but he picked up a destructive drug addiction as well. What is a girl to do? With a little help from an unlikely and decidedly alien source, she finds her answer.
Alexis Kaman's tag cloud