R.M. Lagman
Biography
R.M. Lagman is a single father of three living in Woodland Hills, California. He has written several feature film screenplays. One, Training Wheels, was produced and released as an independent film, which was selected for competition in several film festivals. Beautiful Lies is the author's first novel, which sprung from a very difficult series of events. The book was written over a three month period, while Lagman was awaiting major heart surgery. It is safe to say that he really put his heart and soul into this novel. He survived the surgery and is now working on his second novel.
Smashwords Interview
Books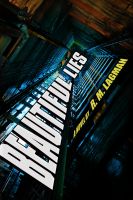 Beautiful Lies
by

R.M. Lagman
A dark journey to a bright place. The tight confines of an elevator stalled 33 floors high, brings out the very worst and very best in these six ordinary people. Everybody has a story. Some are rich, compelling, even inspiring. Others will send a shiver down your spine. Betrayal, murder, suicide and rape will be revealed. Villains will surface to destroy lives and heroes will rise from the ashes.
R.M. Lagman's tag cloud