Arthur Frank
Biography
Arthur Frank is a former Director of Labor Relations for several fortune 250 corporations, responsible for union contract negotiations, strike preparations, arbitration advocacy, grievance handling, discipline and discharge, and staff supervision. As America was losing its industrial base in a dying career field and he changed careers to own a magazine publishing business, producing both consumer and trade publications.

Magazines are also a declining field, and he sold out in favor of pursuing leisure activities. He is an expert in 19th Century European paintings and sculptures, and trades in the art market, a highly specialized challenging field. He never considered writing fiction until he told his wife that a certain story was really disappointing and that he could do better himself, in Colin Dexter fashion. She retorted he couldn't possibly do it, that it was not his training, with his bachelors and masters degrees and US Air Force service, so he wrote his first novel of some 130,000 words. Surprised, she said it was actually good.

He has lived all of his adult life in Northern Monmouth County, New Jersey now living in Holmdel for many years, where he is active in the community holding several elected or appointed local positions. He has always been afflicted with wander lust, and may be found on the beaches and waterways of Fort Lauderdale in the winters and in the cafes and theaters of Woodstock NY in the summers. He speaks 5 northern European languages and travels overseas by car when he can. Getting lost is half the fun.
Books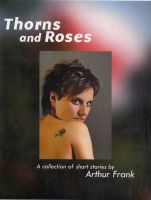 Thorns and Roses
by

Arthur Frank
a collection of short stories written for varoious writers ortganizations over time. They include mysteries , thrillers, scirnce fiction and general fiction stories All rthe stories are within the normal limits set by writers organizations, being between three thousand and seven thousaand words.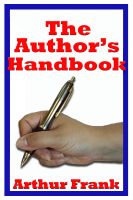 The Author's Handbook
by

Arthur Frank
(5.00 from 1 review)
This book is an effort to cushion the hard knocks that most writers experience along the way and cause many talented people to simply give up. It is intentionally priced at about as much as a cup of coffee, and intentionally kept short to clear a lot the jetsam away from the path to a literary career. Good things do come in small packages after all.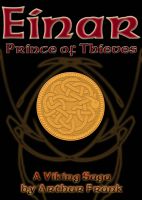 Einar, Prince of Thieves
by

Arthur Frank
Life was never easy for Einar Thorson. His father killed, his cowardly uncle Stig usurped his title and sent Einar with the raiders in the hopes that he would be killed and no longer be a problem. Odin smiled on him and Thor protected him; Einar was invincible in battle with his enchanted sword and became famous throughout the known world.
Arthur Frank's tag cloud