Carole Embden-Peterson
Biography
Carole Embden-Peterson is a professor at the Art Institute of Atlanta, Decatur and teaches, film, professional communication, critical thinking, and public speaking. She writes for many online publications and is a member of The National Writers Union. She has won several awards; Pan American Health Organization Media award for Excellence in Health Journalism; United States Information Service Fellowship International Visitor Program award; Rotary Foundation Journalism Scholar; University of Windsor CJAM community radio awards. She has a Master's degree in Communications is ABD, and currently finalizing her PhD in Communications.
Embden-Peterson has outstanding communication and business qualifications with an impressive track record of more than 25 years of hands-on experience in training & development, communication, strategic planning, business development, and project management. She has a leadership role at the Lawrenceville based Trinity Life Church that is shepherded by Senior Pastor David Brunson and Tara Brunson.
The woman behind the author is also vice-president of the Caribbean Divas Book Club, as well as co-CEO of the Atlanta based Caribriddims Radio. She loves writing, reading, computers and research. She is also a news junkie. She is always the one her friends and peers turn to for help in relationships and their children. Her own experience coupled with those of the friends she mentored, and counseled led her to write this book, outlining the Christ like way to meet a partner, develop a relationship and ultimately, if that is Gods will, get married.
Embden-Peterson is currently married to Kenneth with four adult children & three adult step children and lives in metro Atlanta, Georgia.
Books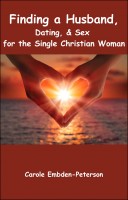 Finding a Husband, Dating & Sex for the Single Christian Woman
by

Carole Embden-Peterson
Are you concerned whether or not you will get married? Find the right husband? Or how to act on a date as a Christian women? Well, be concerned no more. This book provides guidelines on how the Christian woman can find a Godly man, date and get married.
Carole Embden-Peterson's tag cloud