Catherine Wilcox
Biography
Catherine Wilcox is a life coach, spiritual advisor, and writer, who teaches how to open the doors of communication between the Soul and the ego, a 21st century art. She has counseled men and women along the path of healing of self and others through the process of forgiveness from the experiences of our past that play over and over again in our lives. It is Catherine's belief and teaching that until you take the time to face and address the issues that have blocked your peace and happiness, you will be trapped in an unproductive and unhappy life.
Catherine is a commercial real estate broker and a property management entrepreneur with a degree in finance, and a Sunday school teacher, with a life long passion for writing soul assistance books (The Griever's Manual and Workbook, The Lover's Manual and Powering Up the Soul, to name a few). She lives in a sleepy water community in Michigan where people of all genres come to relax and rejuvenate in her beautiful gardens and wise counsel.
Where to find Catherine Wilcox online
Books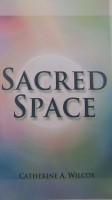 Sacred Space
by

Catherine Wilcox
Sacred Space. A how to manual complete with personalized exercises to shift our minds and consciousness from its current thinking into a different pattern that can bring forth a more abundant, peaceful existence - the desire of every living thing.