Caven Tootell
Biography
In the past I served for over 20 years in the Royal Australian Navy as a Combat Warfare Officer before moving across to Intelligence where I finished my career as Deputy Director Navy Intelligence. During my career I served in a combat role in Desert Storm II, as well as HQ intelligence staff for the operation to stabilize East Timor. I also served in exchange postings in Malaysia and Indonesia.
After leaving the Navy I worked briefly in the mining industry as a consultant in Indonesia, then took up several contracts in Afghanistan assisting the UNAMA mission and other contract clients over a seven year period, finishing in 2010 conducting the civilian side of a US counterinsurgency mission, in essence living by myself out in Afghan townships and managing local civil engineering projects with villages (wells, road rehabilitation, farm land clearing etc.) paying locals to encourage them not to take up offers from the Taliban for paying work. At times though this meant, due to the isolation of this work, having to gain the local Taliban commander's approval for the work to proceed. I have recently returned from a 2 year contract constructing the new Metro rail system in Doha, Qatar.
At present I am completing my second Master's degree, but have always felt I could write a historical (colonial) novel in the genre most associated with my favourite authors, Graham Greene, Joseph Conrad, Somerset Maugham and Rudyard Kipling.
Books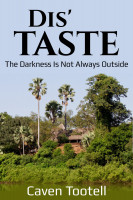 Dis' Taste
by

Caven Tootell
Price:
$2.99 USD.
Words: 92,680.
Language: English.
Published: October 12, 2018
. Categories:
Fiction
»
Historical
»
General
The violent environment of the Congo Free State creates a surreal world where colonial officers attempt to forge new lives, but eventually descend into an ever darkening world of lost dreams, disillusionment and hatred. The oppressiveness of the country overtakes their lives. they question the ethics of what they are doing, and interacting with each other, their families and the locals.
Caven Tootell's tag cloud