Carroll Michel
Biography
Carroll was born in Cape Town, South Africa and as a small girl moved to Benoni in the then Transvaal in South Africa. She then returned to Cape Town and trained as a nurse 35 years ago. After getting married she moved to Durban and for the last 20 years has taught pottery to children. She was diognised with breast cancer, however she has survived and grown in strengh, faith and courage throught this difficult experience. Her interests are reading, scrap booking, storytelliing and arts & crafts.
She is married to Darryl and they have two adult daughters (and a Yorkie, a lovebird and a hamster and still live in Durban South Africa.
Books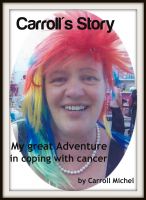 Carroll's Story
by

Carroll Michel
Hearing that she had breast cancer, Carroll, a 53 year old mother of two daughters, faced her greatest fear! Wearing pearls, lipstick, crazy colored wigs and with hope, courage and a great sense of humor. Carroll set out on an adventure to conquer cancer! This is her story!
Carroll Michel's tag cloud