Todd Finley
Biography
Todd N. Finley has made more than $1,000,000 buying storage units and reselling the goods. He is the owner of Tough Times Thrift, a liquidation firm in Chicago, IL. He's been in the liquidation business for over five years. He got into the liquidation business after being the owner of a local moving company. Customers were more interested in giving him the goods that they didn't want more than completing the actual move. Mr. Finley quickly learned the old adage, "One man's junk is another man's treasure." Using his business savvy that he learned while growing up in Cleveland, OH as the son of a very successful entrepreneur, he built a business around liquidating goods that employed over twenty people. When Mr. Finley is not attending auctions and overseeing his business, he enjoys spending time with his family, exercising and traveling.
Books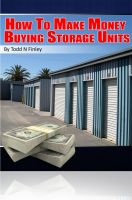 How To Make $1 million Buying Storage Units
by

Todd Finley
Every month over 10,000 abandoned self storage units go up for sale. These units sell from $1 to thousands of dollars. The contents of the units are a mystery until you buy it. You only get a few minutes to look at the contents before the auction starts. It's a modern day treasure hunt! You can make a lot of money buying storage units. WE SHOW YOU HOW.
Todd Finley's tag cloud