C.j. Ethington
Biography
C.j. Ethington lives in Utah with her husband (lovingly referred to as second-in-command despite the fact that he is often the first), their four children, and her beloved coffee maker. She may not have her super hero badge yet, but deep down she believes that with enough coffee in her system, anything is possible. C.j. has been dreaming up stories since she can remember and has been recording them since she was old enough to convince someone else to write them down. With an insatiable desire to learn, she considers herself a career student. In other words, if they have a course for it, she'll be the first to sign up. Though, her love affair will always be with creative writing. Don't worry; her husband understands. After all, they did meet in English class.
Where to find C.j. Ethington online
Books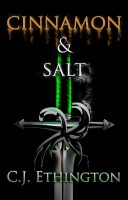 Cinnamon and Salt, Sentinels Book 1
by

C.j. Ethington
Demons, ghosts, psychics.. Nicky Dubois doesn't believe in any of these things. Sure, she enjoys watching them on TV, but in real life? They're just nonsense. Or are they? When an inexplicable epidemic rages through Nicky's high school, she is forced to turn to the new guy, Asher Rowan, for help. Asher may be the only person who believes her when she says that evil forces have come to her home.
C.j. Ethington's tag cloud