Carlos Elino Boechat
Biography
CARLOS ELINO BOECHAT é diretor, roteirista e montador (editor) de cinema e televisão. A partir de 1970 trabalhou como roteirista, diretor e montador (editor) de vários institucionais e documentários para várias produtoras. Desenvolveu durante esse período roteiros de séries, longas e curtas metragem, além de sinopses de novelas. Também trabalhou nos longa-metragem: "70 Anos de Brasil"; "O Torcedor"; "Vivência de Campeões" e "Relatório de Um Homem Casado" dirigido por Flávio Tambellini, onde recebeu o prêmio da APCA de melhor montagem em 1975. Na rede Manchete (1985/1992) escreveu, dirigiu e editou vários programas: "Acredite se Quiser"; Agricultura de Hoje"; "Você e a Informática"; "O Mundo é Maior que a Minha Casa"; "Série de Vídeos – Maurício de Souza Produções"; "Mulher de Hoje"; De Mulher Pra Mulher"; "Clô Para os Íntimos"; e outros. De 1996 a 2002 no CDT foi responsável pela realização de mais de quinhentos vídeos institucionais para a área de transporte, dramatizados com atores. Realizou em 2006 o longa-metragem independente "Lei da Vantagem". 2010/2011 desenvolveu para FremantleMedia vários episódios do docudrama Marcas da Vida exibido pela Rede Record (2011). Atualmente escreve a novela: "O Presente de Grego".
Where to find Carlos Elino Boechat online
Books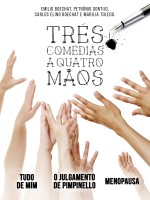 Três Comédias a Quatro Mãos
by

Emilio Boechat

,

Marilia Toledo

,

Carlos Elino Boechat

, &

Petrônio Gontijo
Este livro reúne três comédias do dramaturgo Emilio Boechat em parceria com Petrônio Gontijo, Marilia Toledo e Carlos Elino Boechat.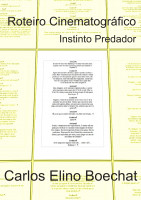 Instinto Predador - Roteiro Cinematográfico
by

Carlos Elino Boechat
You set the price!
Words: 67,050.
Language: Portuguese.
Published: April 2, 2018
. Categories:
Screenplays
»
Drama
O filme é um relato de histórias de pessoas envolvidas direta ou indiretamente em assassinatos que tratam do tema da morte propriamente dito, sem contudo entrar no mérito da discussão filosófica. E diferente da maioria das histórias do gênero, a preocupação desta trama vai além de simplesmente desvendar os crimes. Ela expõe o instinto predador que há em cada ser humano.
Carlos Elino Boechat's tag cloud