Charles Enscoe, Jr
Biography
Charles Enscoe
No one special, the son of a career military man, was born in Texas and raised in a variety of cultures all over North America. Whether living in big cities or tiny towns he came to realize that he was just a humble visitor. This gift afforded him the opportunity to observe life as seen through the eyes of his hosts, and a realization that in life there are many different perspectives.
After eight years in the US Navy he settled down to raise his family, work his way through industry, while at the same time earning a bachelor's degree in computer technology. Now gray headed it's time to tell some stories.
Books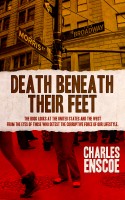 Death Beneath Their Feet
by

Charles Enscoe, Jr
Death Beneath Their Feet is a fictional prophecy, a near future narrative that looks at the United States from the eyes of those who hate the free lifestyle of the West and its corruptive influence on their religious practices and moral codes. The story knocks its readers from their comfort zone leaving them wondering if this really could happen.
Charles Enscoe, Jr's tag cloud