John Christopher Roberts
Biography
My bio is not all that important in my estimation. My hope in writing the book is that the characters whose lives are lived within it's pages are capable of speaking for themselves. I hope, dear reader, that you will enjoy, laugh at, and learn something from the people in the book that you can use to make your own life better in the ways you deem worthy.

Any book worth it's feed takes us to places and times that are unfamiliar and illuminates our own world while teaching us something about ourselves. You want to have some fun? Do you love horses? Have you ever been down on your luck with nowhere to turn and no one to turn to? Have you ever been knocked down and had to get yourself up only to find everything you thought of a moment before as your life had suddenly vanished? If you answered yes to any of these questions you will find some friends to share a drink and a story with, some compadre's - your people - at the Finish Line.

The Finish Line is a glimpse into a hidden corner of the American story just before that story was about to change dramatically and permanently. The story began as a rough incomplete first draft found among my father's effects after his death. There was no ending. In spite of the huge missing pieces something in the story and the characters he sketched out touched me deeply. Going to the track with my father was often a life changing experience. "Things" happened on a regular basis. The book is auto-biographical in it's essence. I leave it to your imagination, dear reader, to figure who I am in the story. Not that it really matters.

I think of the story as a last testament to my father's life. I viewed the effort of writing it as if I were restoring an old car of his that had been rotting in the garage for decades. I would perfect and improve it until it was as new and whole as if it had just rolled off the assembly line. A 1940 Lincoln Continental Cabriolet convertible.

The book took over 15 years to become as true and honest as I know how to make anything. It was revised, and revised, and revised, and revised again. Each time the lines became cleaner, the contours better defined. The right engine parts were found, and the motor tuned until it purred. It's a pretty sweet ride. I hope I have done Panama, Willie, Lucky, Tad, and all the other marvelous, quirky, broken, brilliant, unkempt, beautiful characters justice who lived out their fates at Hialeah Park and The Finish Line in the early '40's.

These are the biographies that are important to me to write about, not my own. My deepest wish is that the reader will enjoy meeting the characters within the book as much as I have.
Books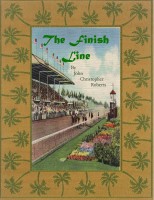 The Finish Line
by

John Christopher Roberts
The family we are born into is not always the family we belong to. Often the journey to find our true home with our real family is a perilous one fraught with wrong turns, sometimes danger, and occasionally a few good breaks. The story is set in Miami, FL in 1941 and revolves around thoroughbred racing at Hialeah Race Track and a seedy South Beach bar called The Finish Line.
John Christopher Roberts' tag cloud