Diane Hamby
Biography
Diane is a fresh voice in politics. She has served as a local County Commissioner and a run for congress (losing by 477 votes out of 80,000cast) She and her Husband Terry have 4 daughters, 8 grandchildren, 5 dogs, and a paint contracting business. They live in Iredell County in the Piedmont of North Carolina on 16 acres. Diane enjoys gardening, family, friends, politics and church. Diane has been very active in local democratic and statewide politics. She has always enjoyed the respect of both parties for her wit, common sense and the desire for good honest leadership in all levels of government.
Where to find Diane Hamby online
Books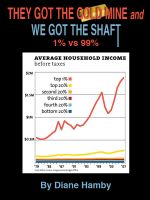 They Got the Gold Mine and We Got the Shaft
by

Diane Hamby
A must read for every political junkie. This easy informative explanation of what politics has to done to give us this economy, and why we have the 1% vs the 99% today. This book is well researched and connects all the dots between politics, money and our economy. This information will make it easy to win many political arguments.
Diane Hamby's tag cloud