Wendy Stackhouse
Biography
A backpacker since my teens, I see no reason why, now I am retired, I should confine myself just to luxury cruises or five star hotels. They are enjoyable now and then, but there is nothing to compare with the friendship and variety of people you meet at a hostel, no matter where you travel.
Books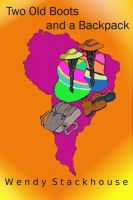 Two Old Boots and a Backpack
by

Wendy Stackhouse
Price:
$2.99 USD.
Words: 61,600. Language: English. Published: September 15, 2012. Categories:
Nonfiction
»
Travel
»
Budget
(5.00)
the backpacking adventures and misadventures of two fifty year old women as they travel around South America. a ship full of randy bulls, muggings on ipanema Beach, kamikaze bus drivers and hostels that have become brothels are the least of their worries. relying more on good judgement than good sense, will life afterwards ever be the same - or more importantly, would they want it to be?
Wendy Stackhouse's tag cloud
Smashwords book reviews by Wendy Stackhouse
Globe-Hurler (The Hadanum Saga) on Sep. 24, 2012

Hadanum is a complicated but well-built world, filled with malevolent animal and plant life. The most dangerous of all, humankind itself, is locked in the age old struggle of power corrupts. I have followed Balon as he fought off monsters, machines and superstition, whilst his world and love affair crumble around him - and will continue to do so in the rest of the Hadanum Saga. Beware - this is a world that once entered is hard to leave!