Charles Caswell
Biography
Charles Caswell is a guitarist, vocalist, songwriter, producer, and author from Maple Lake, Minnesota. He developed an interest in music at an early age that, through hard work and determination, evolved into a national touring career under North America's largest independent record label. He is now working on his own under his brand/band name Berried Alive, sharpening his skills in all areas of his business to become a truly independent artist.
Where to find Charles Caswell online
Videos
Crusty
This is the video for my single, Crusty.
Books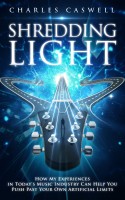 Shredding Light: How My Experiences in Today's Music Industry Can Help You Push Past Your Own Artificial Limits
by

Charles Caswell
When my band was offered a recording contract with a major record label, I thought my music career was just beginning. But I soon realized there had to be a better way to make my lifelong career goals a reality. Now I am making more of a living for my self independently than I ever was while signed to a label. In this book I will share my strategies for success in today's music industry.
Charles Caswell's tag cloud