Jules Pieri
Publisher info
Jules Pieri is Co-founder & CEO of the The Grommet, a site which has launched more than 2,000 consumer products since 2008. The company's Citizen Commerce™ movement is reshaping how products are discovered, shared, and bought. Jules started her career as an industrial designer for technology companies and was a senior executive at Keds, Stride Rite, and Playskool. The Grommet is her third startup, following roles as VP at Design Continuum and President of Ziggs.com. Jules completed her undergraduate degree summa cum laude at the University of Michigan and people tell her she is the first designer to graduate from Harvard Business School, where she is currently an Entrepreneur in Residence. Jules was named one of Fortune's Most Powerful Women Entrepreneurs in 2013 and one of Goldman Sachs' 100 Most Interesting Entrepreneurs in 2014. In June 2014, Jules was invited to the White House Maker Faire to launch The Grommet Wholesale Platform. This extension of the Grommet business connects Makers with Main Street Retailers by bridging the gap between the two and helping to ensure Grommet's goal that within five years 10% of all products flowing through U.S. retail originate from independent small-scale Makers. Jules is frequently asked to speak on consumer trends and technologies, design, and entrepreneurship. She has presented as HBS, SCAD, MIT, and at conferences, including SXSW, Internet Retailer, and the Conference on World Affairs. She's been featured in The New York Times, Wall Street Journal, Forbes, Fortune, and many other media outlets.
Where to find Jules Pieri online
Videos
Discover What's Next at The Grommet
The Grommet is the place to discover and shop for innovative, exciting products that match the values that you care about. Our team spends all year scouting products from independent Makers, inventors, and entrepreneurs.
Books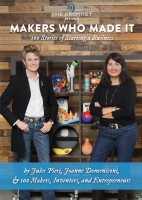 Makers Who Made It: 100 Stories of Starting a Business
by

Jules Pieri

&

Joanne Domeniconi
Makers Who Made It: 100 Stories of Starting a Business brings together The Grommet's Co-founder & CEO Jules Pieri and Co-founder & Chief Discovery Officer Joanne Domeniconi, and interviews with 100 Makers, inventors, and entrepreneurs whose innovative consumer products have launched on The Grommet since 2008.
Jules Pieri's tag cloud