Chas Tuchel
Biography
Chas Tuchel was born and raised in St. Andrews, Scotland, eventually attending The University of Edinburgh. He studied English Literature with the ambition of writing fiction but found himself sadly distracted for many years by the siren song of capitalism. He has now taken steps to correct this and has been in remission for quite some time. His carers report occasional periods of extended lucidity.

Chas currently lives in Edinburgh and in the Bahamas, which avoids confusion.
Books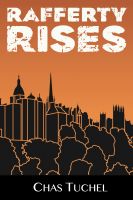 Rafferty Rises
by

Chas Tuchel
Dive into the low-rent neighborhood of Edinburgh's crime scene with Rafferty, the worlds' last surviving bookies' runner - an endangered species in whose longevity Greenpeace and Bono are sadly not invested. 'Rafferty Rises' is a delightfully comic trip through the seedier side of town, and has all the makings of a truly great novel - words, sentences, paragraphs and chapters.
Chas Tuchel's tag cloud