Chet Starke
Biography
As a young man, Chet Starke dated many women and, to use his own words, finds them "utterly fascinating and confoundingly unexplainable." Drawing from his own experiences, he has devoted his life to helping couples better understand each other and have healthier relationships by demystifying the gender gap with frank, honest communication. Since 2012, he has been in a loving, committed relationship with a woman he hopes will mystify him for years to come.
Books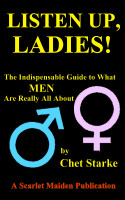 Listen Up, Ladies!: The Indispensable Guide to What Men Are Really All About
by

Chet Starke
Finally! A book that truly tells us why guys do what guys do. Why they won't dance or ask for directions. What their fascination is with sports and lesbians. What the three little words are that strike terror into their hearts—and, no, it's not what you think, girls! Written with utmost candor and a breezy sense of humor, the male author gives it to us straight, gals.
Chet Starke's tag cloud