chew see lim
Biography
My name is Chew See Lim, a Malaysian Chinese. Born on the 22nd July, 1958. Married with a daughter and a son. Education level was up to O-levels, then studied architectural draftsmanship in a local polytechnic. Worked as an architectural technician in the Architect's Department in the Penang Island Municipal Council for the past 30 years. Prior to that I was attached to City Hall of Kuala Lumpur. Now I am a pensioner. I live an active lifestyle since young, being very active in badminton. I started cycling at the age of 36, going around the country and later Thailand. Always been my dream of doing this long ride. Have back-packed into Indo-China too with some others. Now, I am enjoying my freedom with my time. Might want to do it again if there is another opportunity, maybe the Karakorum Highway.
Books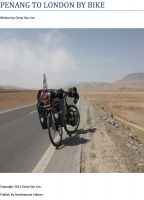 Penang to London by bike.
by

chew see lim
A cycling expedition from Penang, Malaysia, to the London Summer Olympic Games 2012. This is my story of all the happenings during the journey.
chew see lim's tag cloud