Cheyenne Blue
Biography
Cheyenne Blue combines her two passions in life and writes travel guides and erotica. Her erotica has appeared in several anthologies, including Best Women's Erotica, Mammoth Best New Erotica, Best Lesbian Erotica, Best Lesbian Love Stories, and on many websites. Her travel guides have been jammed into many glove boxes underneath the chocolate wrappers. She divides her time between Colorado, Australia, and Ireland, and is currently working on a book about the quiet and quirky areas of Ireland.
Where to find Cheyenne Blue online
Books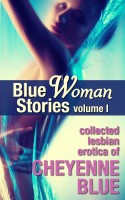 Blue Woman Stories Volume 1: Collected Lesbian Erotica of Cheyenne Blue
A long-time couple weave a fantasy of seducing a straight woman, old friends become lovers in the French countryside, and a cop sent to investigate a suspected dope grower finds more than she expects in a tropical garden. Cheyenne Blue's lesbian erotica has been a staple of many anthologies since 2000. Blue Woman Stories Volume 1 collects together for the first time five of her best-loved stories.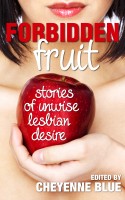 Forbidden Fruit: stories of unwise lesbian desire
This collection of seventeen stories charts the spectrum of unwise lesbian desire, gathering tales of women you should resist--but can't. With stories from writers at the top of their game, including Sacchi Green, Erzabet Bishop, Beth Wylde, Harper Bliss, and Allison Wonderland, this collection is sure to thrill.
Cheyenne Blue's tag cloud