Perry Crompton
Biography
The Chisel Hedgehog book series reminds me of when I once rose in a plane above rain and lightning to a beautiful blue sky atop a sea of cotton balls. I knew then that wherever we are, in whatever tough circumstances, life is better "somewhere" else -- and that somewhere is often a state of mind. That's when I moved from music producing to writing the Chisel Hedgehog series -- as fun, adventurous books for children with a positive theme, and music integrated into them. I find my creativity while experiencing the best things in life -- which are free: the sound of the ocean, the view at the top of a mountain, the wind on my face. It's been fun writing about it. Life is good.
Where to find Perry Crompton online
Books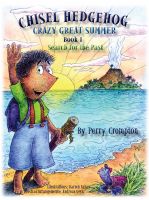 Chisel Hedgehog Book 1 Search for the Past
by

Perry Crompton
Summary: An awful mistake begins a summer-long crazy, great, and tragic adventure to search for clues to solve a mystery, and pure optimism in spirit and song maintains hope for forgiveness and success. Chisel's whole summer will turn out to be one perilous adventure after another, in places like the jungles of Volcano Island, The Haunted Woods, Look Around Mountain, and The Cave of the Tooth.
Perry Crompton's tag cloud