Olga Chomenidi
Biography
My name is Olga Chomenidi. I was born in Neo Irakleio , Attica, ( a northern suburb of Athens which before WW2 was one of the holiday resorts for Athenians due to its excellent climate). I still live in the same place with my journalist husband and my only son.
In 1982 I entered the School of Philosophy at the National and Kapodistrian University of Athens and in 1987 I graduated from the Faculty of History and Archaeology. The following year I studied Russian at the Pushkin Institute in Moscow under a scholarship from the Hellenic-Soviet Friendship association, where I had studied for the previous six years and where my first contact with journalism was made at the periodical they published.
On coming back from Moscow, I got my first job as a newspaper journalist in 1989. I worked as a reporter for quite a few newspapers and as a columnist for nine years until 2007 when I left the mass media, being fully conscious that the particular area had nothing to do with what I had decided to serve in journalism when I started my career.
In recent years I attended theater education seminars and I deal exclusively with the playwriting.
Books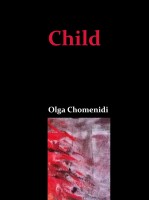 Child
by

Olga Chomenidi
Two worlds, our whole world and an abyss between them. They do not speak to each other. They do not look at each other's' eyes nor do they share the one and only sky. And there, into the Erebus-like chasm of Keadas which they have established between them, the two worlds, the West and the East mercilessly and incessantly throw their children.
Olga Chomenidi's tag cloud