Christopher Akaiso
Biography
Christopher Iboro Akaiso became a very passionate follower of Christ in 1990 close to completing his studies in Biochemistry in the then Polytechnic Calabar, Nigeria. His submission to Christ and his Baptism in the Holy Spirit happened in a very special way as he had personal sessions with God. Immediately afterwards, his bearing witness for Christ and teaching the Bible began as he also participated actively in the Nigerian Fellowship of Evangelical students (NIFES) on Campus. In his National Youth service year, apart from his personal Evangelical efforts with his team, he served on the editoral board of the Christian Magazine published by the Nigerian Christian Corpers Fellowship (NCCF) in the then Anambra state. After his Youth service year, as he served as a minister in Latter Rain Assembly, Lagos, Nigeria, he was led of the Spirit to pioneer an independent work in 1994. He is the founder of NATIONS AGLOW MINISTRY which publishes the Blog nationsaglow.com and convenes the Nations Aglow Ministers Forum. He founded True Vine Assembly where he also serves as the SetMan in Ogun state, Nigeria. He is the apostolic leader over the Nations Aglow community of Churches which he also started. Blessed with an apostolic-prophetic teaching grace with which he impacts the lives of many in Churches and Conferences, he emphasizes that God's ultimate goal for the Christian life is to become progressively changed from the Image of God in which man was created till arrival at the Exact-Image of God as Christ is. He is married to Eunice Olusola Akaiso and the union is blessed with four boys and a girl.
Where to find Christopher Akaiso online
Books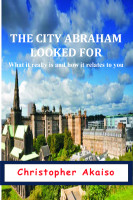 The City Abraham Looked For: What It Really Is And How It Relates To You
by

Christopher Akaiso
Calling attention to how each Christian is to determine what measure of the promised eternal reign with Christ would be given him in the eternal age ahead, and showing how God has provided for that to be done, this book serves to enhance God's people towards becoming truly set for the maximum experience in that eternal age ahead.
Christopher Akaiso's tag cloud