Chris Clark Davidson
Biography
Chris has always been interested in story-telling and through the years, she has used this penchant to accomplish many things. From term papers to 'Local Slice of Life', newspapers, magazines and an interview on "Its A Miracle", her stories have been distributed far and wide.

The time-travel concept has always been fascinating, so it is no surprise to anyone who is acquainted with her, that these stories would center around that theme. If in the process, you add in a moonlight and roses romance plus a touch of life, then you have created a mysterious and thrilling love story that will captivate its readers.

She has always believed that story telling is not only a gift, it can actually be a tool for helping others. If you can sweep someone away from their problems for a few minutes, someone who may be bogged down in this world by life's pressures, you have accomplished much.

She welcomes people to the world of her imagination.
Books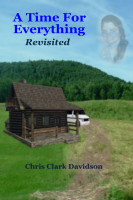 A Time For Everything - Revisited
by

Chris Clark Davidson
"If only there was a way to span time..." Everything he could wish for was in the past. But the year was 2124. Technology and travel capabilities seemed to know no bounds. So would this inventor be able to push technology that next step beyond? Could he successfully accomplish what could be considered the ultimate journey, and find the love tragically absent from his dismal existence?
Chris Clark Davidson's tag cloud