Christine Ellis, Esq.
Biography
Christine Ellis, JD/MBA worked in Corporate America until she met her husband, Dean, a United States Marine, and began adventuring around the world with him after a whirlwind romance. Dean had been bitten by the theatre bug years ago, and began sharing his interest with Christine when they visited Shakespeare's Globe in London during their honeymoon.

Christine added M-O-M to her credentials when she and Dean welcomed their first child into the family. Dean could not wait to introduce the baby to the world's preeminent dramatist. Christine decided he shouldn't have to wait. A lover of all words and a voracious reader, Christine decided to give up writing contracts and instead write something her whole family could enjoy reading.

The Ellis family currently lives in a small village in Ginoza, Japan, where Christine is a College Professor lecturing on business and law subjects. She also does pro bono legal work. Christine enjoys exploring new countries and cultures with her family and her camera.

Shakespeare: Out of the Mouths of Babes™ series brings timeless classics to the smallest of audiences. Each page is brightly hand illustrated by Christine, and the complex plots are made easy to follow—all while staying true to the essence of the original work. The books encourage engaging interaction between parent and child and provide an educational foundation enriched by the revered art and culture of the original Bard of Avon.
Books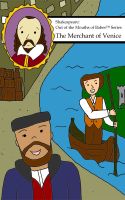 The Merchant of Venice, Shakespeare: Out of the Mouths of Babes™
by

Christine Ellis, Esq.
A brightly-illustrated adaptation of a great Shakespearean work that reads like an old-fashioned fairy tale. Teaching the lesson that it is what's on the inside that counts as well as the importance of loyal friendship, the story also includes a mystery for little ones to solve and an evil villain who is triumphantly defeated by a strong female character. Picture book for beginner readers.
Christine Ellis, Esq.'s tag cloud