Christie Shary
Biography
Christie Shary is married and the mother of two grown sons. She currently lives in Dana Point, California, although she lived over four years in Mexico City and another four in London and Amsterdam. She is an avid world traveler and has visited more than sixty countries, and often sets her writing in these foreign lands. She has had four novels published. The Blue Mosaic Vase is a Fresh Voices and EPPIE Award winner, and Amelia, which she co-authored, is an EPPIE Award Finalist. Her upcoming book, Lucky Dog—The True Story of a Little Mexico City Street Dog Who Goes International, is already a Fresh Voices Award winner. She is a former English teacher, as well as a professional writer, and has worked as such at several large Orange County, California companies. Her other passions include reading, camping, skiing, gardening and nature.
Books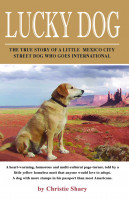 Lucky Dog: The True Story of a Little Mexican Street Dog Who Goes International
by

Christie Shary
The humorous, heart-warming and adventurous true story of love, friendship and survival, as only an endearing little Mexico City street dog named Lucky could tell it. A yellow mutt with more stamps in his passport than most Americans, he's considered winner of the 'doggie lotto' by all who meet him.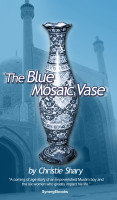 The Blue Mosaic Vase
by

Christie Shary
When his mother dies, Mohammad, left with only the beautiful blue mosaic vase he once gave her, begins his quest for identity, love and belonging in a land where women are bound by tradition and sons are prized.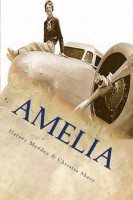 Amelia
by

Harvey Mendez

&

Christie Shary
Thirty years after Amelia Earhart vanishes in the Pacific, Vincent Carlson, designer of her spy plane, now ex-CIA, still searches for the answer to her disappearance. But the search for the real killer takes him and his mysterious Amerisian friend into deeper and deeper peril.
Christie Shary's tag cloud