Christine E. Schulze
Biography
Christine E. Schulze has been writing books and stories for about fifteen years, ever since she was old enough to write.

Christine has spent two wonderful years and Southwestern Illinois College where she enjoyed not only her studies as an Elementary Education major, but also being a part of the College Choir. She is currently in the process of completing her bachelor degree in elementary education McKendree University. She will graduate in Spring 2010.

Golden Healer, Dark Enchantress, Schulze's first publication with WEE, is actually part of a larger, twenty-seven book series entitled The Amielian Legacy, which is comprised of shorter series and individual novels. To read more about this epic series: The Hero Chronicles: A New Christian/Fantasy Adventure Unleashed
http://www.kalkion.com/articles/hero-chronicles-new-christianfantasy-adventure-unleashed/603

When she's not writing or learning from the literary masters such as Tolkien, C.S. Lewis, and Diana Wynn Jones(a few of her favorites), she likes to play her piano, sing, draw, compose music, and hang out with her friends, especially Sarah, Sascha, and Jonny. Christine lives in Shiloh, Illinois with her mom, Dianne; her dogs, Oreo, Honey, and Tootsie; and her rabbit, Thumpy.
Books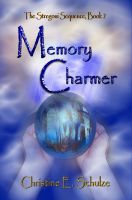 The Stregony Sequence Book 2: Memory Charmer
Three daring, forbidden romances steeped in fantasy, adventure, and mystery weave together in this second instalment of The Stregoni Sequence, in which everyone must learn the meaning of true, self-sacrificial love. Though, none must learn this lesson more so than the one whom these stories stem from and around whom they all ultimately entwine...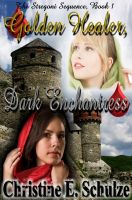 The Stregony Sequence Book 1: Golden Healer, Dark Enchantress
Emma had had more reason than any other time of her life, even when facing one of the rampages of her drunken father. But she wasn't afraid. And that was odd, because although Aaryn, the person asking her that question, was her best friend, he was also a vampire. In fact, she was surrounded by hundreds of vampires...
Christine E. Schulze's tag cloud