Charles Bailey
Biography
Charles E. "Chuck" Bailey is a retired Air Force command pilot with tours of duty including the Vietnam War, Desert Shield, Desert Storm, and the Cold War. He is a recipient of the Bronze Star Medal, plus the Air Medal. He holds a BA degree in Communications from the California State University at Fullerton, an MS in Systems Management from USC, and an MA in Education from Chapman University, California. The author is married, with one son. He has survived the debilitating symptoms of Parkinson's since 1996; he plans on regaining his flying status as soon as possible.
Books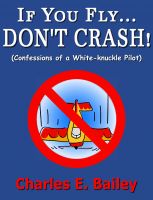 If You Fly... Don't Crash!
by

Charles Bailey
"There are old pilots, and there are bold pilots, but there are no old bold pilots." — W.W. Windstaff The author piloted Air Force heavy jets for over two decades, in peacetime and wartime. IF YOU FLY… DON'T CRASH! (Confessions of a White-knuckle Pilot) highlights some of the good, the bad, and the simply silly aspects of aviation experienced during his thousands of hours airborne.
Charles Bailey's tag cloud