Barbara Krueger
Biography
Barbara Krueger consulted to the seniors housing industry for more than 20 years, helping Active Senior Communities, Assisted Living Communities and Continuing Care Retirement Communities (CCRCs) market to seniors, and decide the feasibility of building new communities. She was among the first dozen to receive the Senior Housing Marketing Specialist (SHMS) designation from the Building Industry Association's Senior Housing Council. She developed a website educating seniors on housing choices - stay and age-in-place or move to an age-restricted community. During that time she accumulated senior jokes from the internet and email. This is the first of 3 volumes of that collection.

Krueger is also the author of "Universal Design: A Step-by-Step Guide to Modifying Your Home for Comfortable, Accessible Living" published by Knack/Globe Pequot in 2010.
Books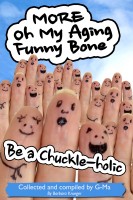 More Oh My Aging Funny Bone: Be a Chuckle-holic
by

Barbara Krueger
Jokes about and for seniors that tickle the only sense that improves with age - your sense of humor. Your sense of hearing, sight, taste, hearing, feel and even your common sense tend to diminish with age. You may have known some of these jokes before -having received them via email - but then again, if you are a senior you may have forgotten them. Read them, feed your sense of humor!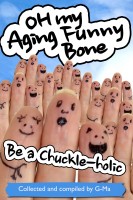 Oh My Aging Funny Bone: Be a Chuckle-holic
by

Barbara Krueger
"Oh My Aging Funny Bone: Be a Chuckle-holic" is a collection of jokes for and about old people that circulated via email - you know the ones that came to us with an infinite list of forwards between our email and the ultimate joke. They are funnier in collection than one at a time. Great gift book!
Barbara Krueger's tag cloud