Richard Lander
Biography
I have been a sports graduate for 20 years always looking for the way forward and to the top. Looking for what works. For the last 15 years I have studied Tai Chi, Bagua and Hsing yi and with this the inevitable expansion to all areas of Chinese thought. The ancient wisdom of the Orient with modern science helps work out the effective ways of thinking and acting to reach goals. I have practiced lots of methods on myself and currently feel the pain through Brazilian Jiu Jitsu recently gaining a purple belt. A rediscovery of western wisdom and connections to eastern tradition and scientific advances seeing the common principles and patterns has been the path that this latest line of study has encouraged. So I am healthy (and the Doctor thinks so too) I have consistently met my goals both short term and long term, whether physical, mental or any other aspect of life.
Books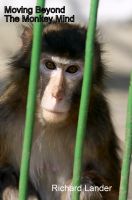 Moving Beyond The Monkey Mind
by

Richard Lander
Do you want to be more effective at one thing or all things, perhaps like a fictional character? Do you want to have an idea about China and why it's in the news every day? Do you want to do business in the East? Can the wisdom of east and west be combined? This book looks at these points. Attempting to 'move beyond the monkey mind'. What actually works and how to do it from east and west.
Richard Lander's tag cloud