Christina Intranuovo
Biography
Christina Intranuovo has been cultivating her experience with children since 1992. As an avid babysitter, her number one request from parents was to keep their kids away from the television. This encouraged her to develop different crafts, games, and activities to keep kids busy. She was also an active volunteer at day care centers and worked as a park supervisor where she was responsible for several children.
Since television is not accessible at these locations, she was forced to come up with different ideas to occupy the children's time and is delighted to share these ideas with you.
Books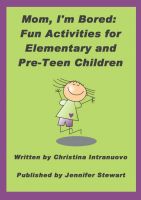 Mom, I'm Bored: Fun Activities for Elementary and Pre-Teen Children
by

Christina Intranuovo
What can you do to keep your kids occupied and entertained without sitting them in front of the television? Keeping your kids active keeps them happy and healthy! Discover how easy it is to keep your school-aged children happily occupied with crafts and games. Try some (or all) of the suggestions that follow and your children will never be bored again!
Christina Intranuovo's tag cloud