Cimorene Ross
Biography
I am a retired cataloguer, a retired Media and Fantasy fan from the days of classic Star Trek onwards, a mostly retired American Civil War re-enactor, and current minder of two Russian Blue ladies (also retired!).

I have a long time interest in history, mostly ancient and classical but venture into the realms of the medieval world except for the unnecessary Tudors. Since retiring I have taken up patchwork, gardening and village activities, being well known for being unable to resist buying perennials!
Books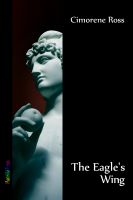 The Eagle's Wing
by

Cimorene Ross
Lucius Valerius Carus isn't impulsive; when he buys a slave at a market it's because he feels sorry for a man who has been maltreated. However he's taken on more than he bargained for with Keret - intelligent, educated, and stronger than he looks. Roman society wouldn't think twice about Lucius using Keret for his sexual pleasure - but it would be horrified to know he's gradually falling in love.
Cimorene Ross' tag cloud