Walter Thompson
Biography
Walter Thompson has worked in the Aerospace industry for 34 years, designing trajectories for the Titan, Atlas, and Delta launch vehicles for delivery of payloads to Earth orbit and beyond. He has always believed in the possibilities of young men and women to make an impact on their communities and the world. The Clairville Trio series is a way of communicating that belief to young readers by portraying the characters as strong, capable, and smart. Their use of Science, Technology, Engineering, and Math skills to solve problems and investigate issues is a hallmark of this series.
Books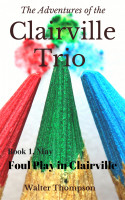 The Adventures of the Clairville Trio - Book 1, May: Foul Play in Clairville
by

Walter Thompson
When a friend's dad is falsely accused of fraud, three conscientious 7th graders jump in to help. The closer they get to the truth, the more dangerous and unpredictable their world becomes. Determined to stay the course, they work harder and take even bigger risks to overcome the challenges arising against them. What can three Middle Schoolers do? Way more than anyone could ever imagine.
Walter Thompson's tag cloud