B.T. Clearwater
Biography
B.T. Clearwater grew up writing stories, winning Literary Student of the Year for Lake George Central High School in 1984. He holds a Bachelor's Degree in English from the University of Nebraska at Omaha, and a Master of Fine Arts in Creative Writing from Western State Colorado University, graduating both Summa Cum Laude, and is a two-time alum of the Superstars Writing Seminars run by Kevin J. Anderson. B.T. routinely judges the Zebulon writing contest for Pike's Peak Writers, and has published fiction under the science fiction, fantasy, romance, western, horror, and crime genres under different pen names. B.T. Clearwater lives in Colorado Springs with a dog, a cat, and a cast of fictional characters for company.
Books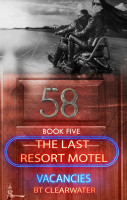 The Last Resort Motel: Room Fifty-Eight
by

B.T. Clearwater
Two women with different pasts hope that love can bridge the gap between life and death. One must hold onto love, while the other must learn to let go, all at the Last Resort Motel.
B.T. Clearwater's tag cloud