Nicoletta Barrie
Biography
Nicoletta (Niki) Barrie has had a lifelong love of animals, both wild and domestic, and this love has influenced her career path as well as her personal life. She has been involved in nature publishing and the photography industry as a writer, photo editor, text editor, publisher and agent...for leading conservation magazines and picture agencies. As a freelance writer, Niki has contributed articles to photography and art magazines and worked on the startup of a general interest magazine, a nature photography magazine and a photography annual. Niki served on the North American Nature Photography Association's (NANPA) Board of Directors for five years. She is a NANPA Fellow and received the association's Russ Kinne Recognition Award in 2003. The American Society of Picture Professionals (ASPP) honored her with the 2006 Picture Professional of the Year Award. This year, 2013, she received NANPA's Outstanding Service Award.

Niki lives in Rochester, New York, and works from her home office. She starts every morning with a walk with her dog Abby on the Genesee River Trail. The trail is part of Rochester's park system, which is often referred to as the Emerald Necklace designed by father of American landscape architecture Frederick Law Olmstead (1822-1903). Niki says her morning walks with Abby are the best part of her day.

Abby, Hildy and Humphrey--all Labrador retrievers--have been inspiration for Niki, and have influenced this book. Niki is also a new cat person with the adoption of Little Lulu.

Clover and the Twins is Niki's first full-length work of fiction for children.
Books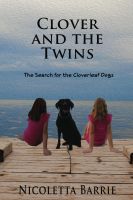 Clover and the Twins - The Search for the Cloverleaf Dogs
by

Nicoletta Barrie
Clover and the Twins: The search for the Cloverleaf Labrador dogs. This Labrador Dog Story begins with Channel and Bezel Sini, ten-year-old spokesgirls for Dogs Forever - a Dog rescue. Clover who explains that she was separated from her dog family on Christmas Eve when a terrifying outlaw she calls Red Eyes tried to capture them in their home in the Chicago trainyard.
Nicoletta Barrie's tag cloud