C L Raven
Biography
C L Raven are identical twins and mistresses of the macabre from Cardiff. They're horror writers, as 'bringers of nightmares' isn't a recognised job title. They spend their time looking after their animal army and drinking more Red Bull than the recommended government guidelines. They write short stories, novels, and articles for Haunted Magazine and have been published in various anthologies and horror magazines. They've been longlisted in the Exeter Novel Prize twice, the Flash 500 Novel competition twice, and the Bath Novel Award. Soul Asylum was shortlisted in the 2012 National Self-Publishing Awards and Deadly Reflections was highly recommended in the 2014 awards. Several short stories have also been long and shortlisted in various competitions. They recently won third prize in the British Fantasy Society Award. In 2015, they were published in the Mammoth Book of Jack the Ripper, which makes their fascination with him seem less creepy. Along with their friend Neen, they prowl the country hunting for ghosts for their YouTube show, Calamityville Horror and can also be found urb exing in places they shouldn't be. They also unleash their dark sides playing D&D/RPGs and gracefully fall off poles as they learn PoleFit.
Where to find C L Raven online
Videos
Gunning Down Romance
The book trailer for our ebook, Gunning Down Romance
Disenchanted
Our book trailer for our ten broken fairytales, released Friday 13th July 2012
Soul Asylum book trailer
book trailer for our debut novel, Soul Asylum. Made by Ryan Ashcroft of Fireclaw Films.
Romance is Dead
Romance is Dead book trailer
Bad Romance
book trailer for Bad Romance
Deadly Reflections
book trailer for Deadly Reflections
Series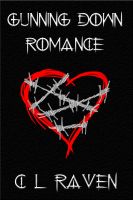 Books
C L Raven's tag cloud
C L Raven's favorite authors on Smashwords

Smashwords book reviews by C L Raven
K's Awakening, a Randy's Diner story on July 21, 2012



This is a miniskirt of a story - short and very sexy. We haven't read many of Anya's books but she is rapidly becoming one of our favourite authors (this is a very high accolade as we are incredibly fussy readers). K's Awakening is set in Randy's Diner, which is a totally unique place where service doesn't just come with a smile. Why doesn't Starbucks offer this? The story follows Karen as she embarks on a new job as a server at Randy's Diner, but it's her customer, Amy who ends up teaching her how to leave customers completely satisfied. Actually finished this story in an hour because it was so hard to put down. If you're looking for something quick and erotic that will leave you wanting more, then definitely buy K's Awakening. You will be totally satisfied and left wanting a return visit. Just don't forget to leave a tip.