CL Smothers
Biography
My professional career has focused on high technology Research and Development for the Department of Defense and commercial applications. In this capacity I served as a systems engineer, project engineer, technical director, and program manager, Director of Research and Development, Vice President Business Development, and engineering consultant for the us navy. Technological pursuits included computer design (which I also taught at a university), air defense systems, passive tactical and strategic sonar systems for the detection of Russian submarines, marine geophysical exploration systems, and night vision equipment and fire control systems. I spent seven years obtaining degrees in mathematics, physics and electrical engineering, and obtained and MBA.
Where to find CL Smothers online
Series
I-Gynoid
by

CL Smothers
The series consists of two books. I-Gynoid and The Entity, sequel to I-Gynoid. I-Gynoid is about an AI program who wants to be human. When she achieves her goal, the Government sends her to a strange planet to try and save an ancient Entity and prevent a catastrophe
Books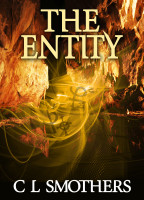 The Entity
by

CL Smothers
An ancient Entity, who has waited 1000 years to complete a sacred mission entrusted to her, is drawn into the middle of an intergalactic war to control her planet. She fights for the survival of her world as miners and soldiers invade and decimate the environment. Somehow, she has to stop them or face an unthinkable catastrophic event.
CL Smothers' tag cloud